Open to the public since 2011, this contemporary garden was started in March 2000 by the owners, Dominique and Benoit Delomez, both of whom are sculptors.
It is managed so as to respect both the environment and biodiversity. Poetic, intimate or fun, tamed wilderness and luxuriance stand side by side with radicality in a completely restructured site, consisting of banks, pools and rocks.
Water is a major feature: wild ponds, fountains, and water courses bring this garden to life, giving a calming effect, encouraging quiet lingering reflection, and the discovery of hidden-away places. Over 1,200 varieties of plants are currently to be found here, including perennials, grasses and shrubs: species from the region feature as well as a collection of 136 taxa of heather.
With its tones of red and orange, the vegetable garden, magnified by mirrors, has fruit trees, vegetables, as well as herbs and medicinal plants. Along a path, which resonates with the garden, the visitor will unexpectedly come across contemporary works of art.
Map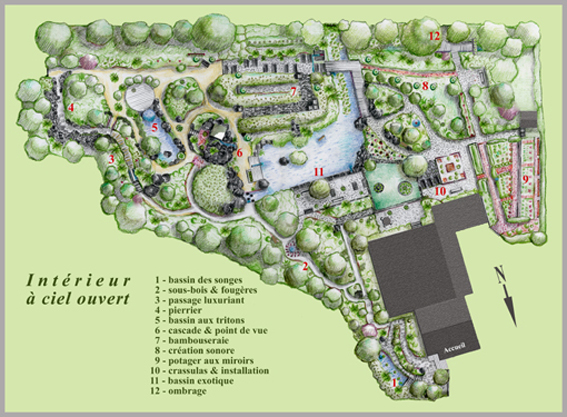 Videos