Visiting
Hours :
Since 6th of may to 30th of june 2022
Open on friday, saturday, sunday and all nak days from 2pm to 7pm.
Since 1th of july to 18th of september 2020
Open everyday and all bank days exept on monday, from 2pm to 7pm.
Prices
(cash only)
Free visit : 6 €/adult Free less than 18 yo
Individual Passeport for a year : 10 €
Groups from 10 pers. : everyday with booking guided tour from may to september – from 9.30am to 5pm
Guided tour (1h30/2H) : 6 €50/adult.
Free visit 5€ / adult
School/student with booking guided tour (1H/1H30) : 45 € for 1 classroom, 70 € for 2 classroom.
Mariage photos with reservation – 35 € (max.6 pers.)
Access to the garden
You must park the car on the 200m far car park.
GPS : 48°48'36.1″N / 0°30'09.7″W
Be aware that the garden may be hard to visit for disabled people
Dogs are not allowed to come in.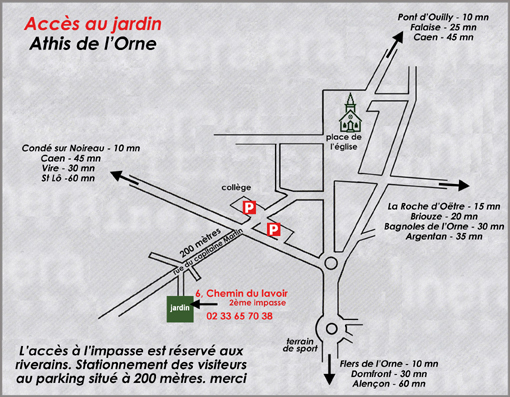 Contact